Day 1: You arrive at Pasir Belanda Resort. Enjoy the relaxed kampung atmosphere! Have a dip in the pool while watching the cows on the other side of the river. Order dinner at our neighbor's for an excellent local dish.
Day 2: Your first day of cycling. You set out from Pasir Bel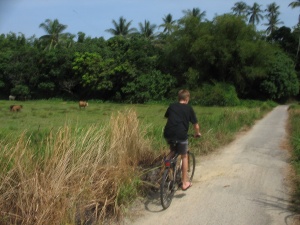 anda in Kota Bharu and cycle 19 km on small village trails to Kuala Besar and come back to Pasir Belanda. Small villages, beaches and visits to a local kite maker, fish cracker factories, World War II bunker and a puppet maker (wayang kulit) will make this journey unforgettable. You stay overnight in Pasir Belanda Resort.
Day 3: You cycle from Pasir Belanda to your homestay address in Melor. The journey is about 37 km and will follow small roads, avoiding traffic and motorways as much as possible. Your host for tonight will explain about the process of growing rice.
Day 4: Time to say goodbye to your homestay family and hit the road again! You'll cycle about 50 km in rolling countryside. The route leads you deeper into the interior of Kelantan all the way to Machang. You will pass beautiful scenes of rice fields with mountains in the distance. Take a break at Tok Bok for a dip in the hotsprings. Your homestay is in a village amidst the rice fields.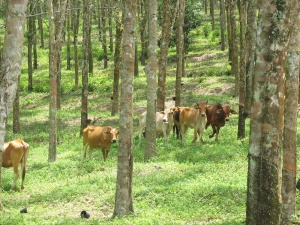 Day 5: Today you'll reach your end destination: Kuala Krai (37 km). Kuala Krai itself is located in an area with lots of palm oil plantations. In olden days, Kuala Krai was a hide-out for the English planters. They had an English club at a rest house and even a small zoo! At that time the road ended at Kuala Krai and you could only proceed your travels by boat or train.
You will leave your bicycle here and take the transfer back to Kota Bharu. It is also possible to proceed your travels by bus or taxi to other parts of Malaysia or take a transfer to the Perhentian Islands.
At Pasir Belanda Resort you can do other activities such as kayaking, swimming, walking, a cooking workshop, a kite decoration workshop.
Please contact Pasir Belanda Resort for prices.