We're happy to inform you that we have put together a few cycling packages to different destinations in Kelantan. This province is a beautiful, relatively unexplored piece of nature and very suitable for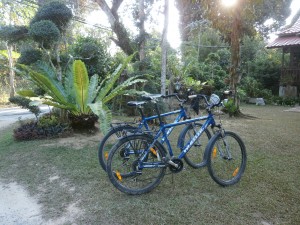 exploring by bike.
We have customized different tours for you, starting from Pasir Belanda and bringing you all the way to the are of Bachok and Tumpat.
We have found very friendly homestay families where you are invited to spend the night and learn about local customs and food.
The Tumpat Temple Tour starts and ends at Pasir Belanda and so does the Beach & Kampung Tour.
All tours are self-guided. We provide a route description with kilometer tracking. Luggage transfers are included in all tours.
At Pasir Belanda we have high quality bikes in all sizes! There's children's bikes, child's seats and trail-a-bikes available. A bike computer is included in the tour price.
Please contact Pasir Belanda Resort for prices.