Day 1: You arrive at Pasir Belanda Resort. Enjoy the relaxed kampung atmosphere! Have a dip in the pool while watching the cows on the other side of the river. Order dinner at the neighbors' for an excellent local dish.
Day 2: Your first day of cycling (19 km). You set out from Pasir Belanda in Kota Bharu and cycle on small village trails to Kuala Besar and come back to Pasir Belanda. Small villages, beaches and visits to a local kite maker, fish cracker factories and a World War II bunker will make this journey unforgettable. You stay overnight in Pasir Belanda Resort. Day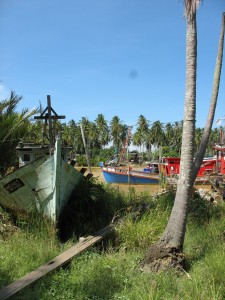 Day 3: From Pasir Belanda a short cycling trip (9 km) brings you to the Kelantan river, from where a boatsman will bring you with your bicycle to a fishing village on an island in the river. Just this boat trip is already a magical experience. The village people will welcome you, show you around in their village and teach you how to make 'love letter' cookies, a specialty from here.
Day 4: The next day you will be brought by boat to Tumpat town, on the other side of the Kelantan river. Look around in this old heritage town. In the past this town was a hub for sailors and it's harbour was used as a storage place for export goods like rubber and palm oil and iron ore from the interior. When you climb the old lighthouse you'll have a good look at the natural harbour of Tumpat and it's railway station. After leaving the town, you cycle about 18 km's through Malay villages and rice fields. It's also the area where you find lots of Thai temples with colorful decorations, like the 'Wat Mai Suwankiri': two enormous dragons are crawling around the temple site! 'Wat Photivihan' is the temple of the sleeping Buddha and there are temples which have a sitting or a standing Bhuddha. You'll spend the night again in the fishing village.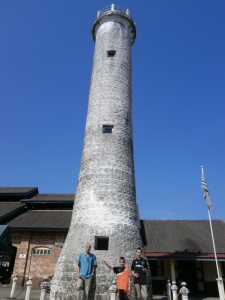 Day 5: Today the boat brings you to the other side again where you cycle to Kampung Laut, a village well known for its 'Serunding' factories (dried and spiced meat floss). This is also the place where you can visit a 'Wayang Kulit' maker (shadow puppets). A local ferry will bring you to Kota Bharu Town and from there you cycle back to Pasir Belanda. Total cycling today: 10 km
At Pasir Belanda Resort you can do other activities such as kayaking, swimming, walking, a cooking workshop, a kite decoration workshop.