Day 1: You arrive at Pasir Belanda Resort. Enjoy the relaxed kampung atmosphere! Order dinner with your host family for an excellent local dish.
Day 2: Your first day of cycling. You set out from Pasir Belanda in Kota Bharu and cycle about 19 km on small village trails to Kuala Besar and come back to Pasir Belanda. Small villages, beaches and visits to a local kite maker, fish cracker factories, World War II bunker and a puppet maker (wayang kulit) will make this journey unforgettable. You stay overnight in Pasir Belanda Resort.
Day 3: Today you leave the area of Kota Bharu and cycle along the coast of the South China Sea (37km) and through some villages. On the way you'll see a beautiful Thai temple, white beaches, fishing boats and enjoy the breeze in the tobacco fields. Tonight you stay at Haiku Villa, a pretty holiday house at the beach.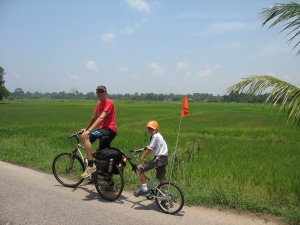 Day 4: Leaving the coast, today's route leads you more to the interior to a village called Seterpa. The journey is about 35 km and will follow small roads, avoiding traffic and motorways as much as possible. Your host for tonight will explain about the life in this village which is dedicated to the 'home stay' program of Tourism Malaysia.
Day 5: Time to say goodbye to your home stay family and hit the road again! Today you'll be cycling 33 km back to Pasir Belanda. Along the way you'll see some rice fields and you'll visit Sabak village, famous for its colorful wood carved fishing boats. If you are lucky you might see some fishermen arriving with their catch sometime in the afternoon. From Sabak it's only a short ride to Pasir Belanda resort, the start and end destination of your journey.
At Pasir Belanda Resort you can take up activities such as walking, a cooking workshop, a kite decoration workshop or just relax and ask for a massage. Please contact Pasir Belanda Resort for prices.